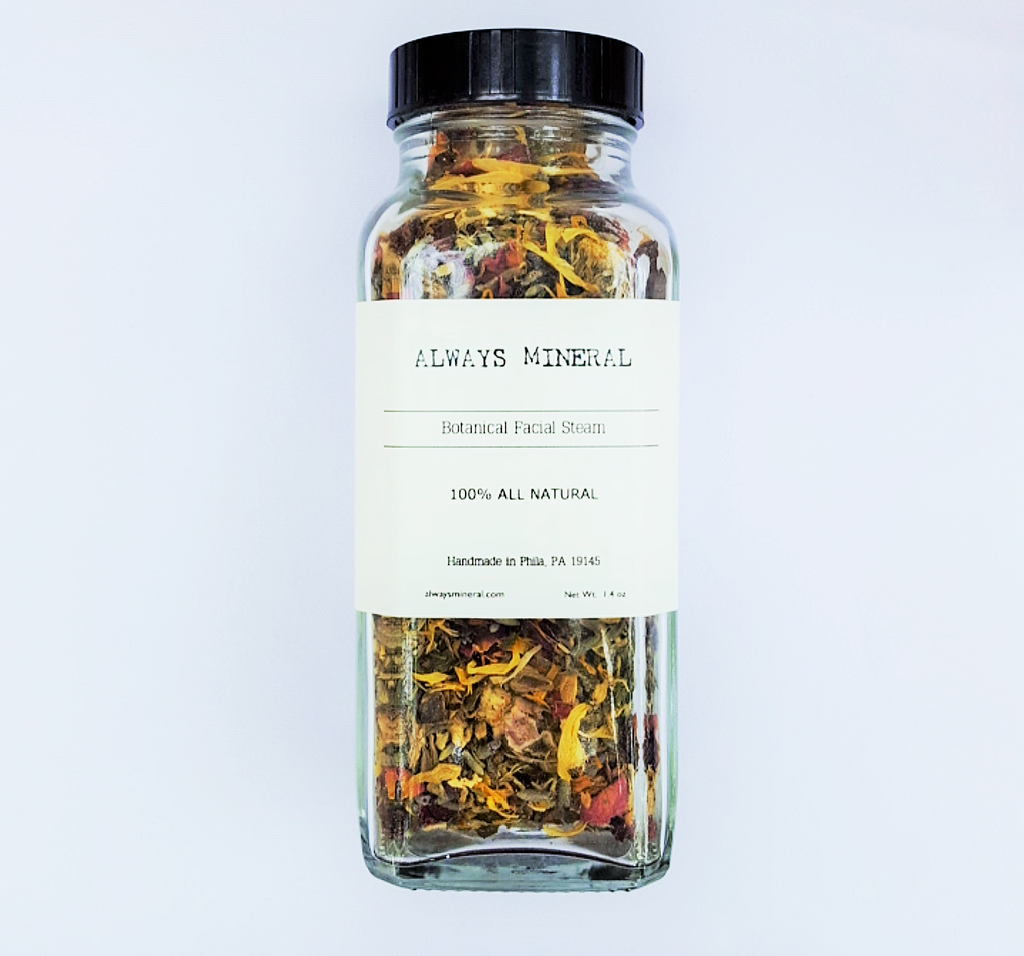 Botanical Facial Steam
Our Facial Steam is formulated with beautiful fragrant flowers and herbs specifically chosen for their skin-benefiting properties. Herbals steams are calming to the senses, open pores and cleanse naturally by purifying and hydrating the skin. These herbs are especially beneficial when it comes to maintaining healthy skin. Moist heat from the steam helps to increase circulation and release toxins through perspiration.
TO USE:
Bring a pot of water to a boil. Remove from heat, let cool for a few minutes to cool the steam (steam can cause burns if used right away while steam is too hot). Add a handful of herbs and stir. Carefully bring face over the steam, avoiding getting too close; about 8-10 inches away from pot or bowl is best. Drape towel over the back of the head to create a tent to capture the steam. Breathe deeply and relax. Continue for 5-15 minutes depending upon your comfort level.
For additional benefits, once complete, strain the remaining herbal blend and add the herbal tea/water to your bath water, or use as a hair rinse once cooled.
For best results, use facial steam after gently cleansing the face (and after exfoliation if this is part of your routine). Follow with our Charcoal Face Mask for a more complete facial routine. Following an Herbal Steam, we recommend moisturizing with our Facial Serum help to lock in moisture.
INGREDIENTS:
Rosa (rose) buds, Lavandula (lavender) buds, Thymus vulgaris (thyme), Calendula officinalis (marigold), Urtica dioica (nettle), Althaea officinalis (marshmallow) Root, Symphytu (comfrey) Root
-----------------------------------------------------------------------------------
The information listed above is descriptive of the ingredients used in the product. Always Mineral does not make claims regarding the benefits of any ingredients in the final product.
Please read our
Terms and Conditions
 prior to purchasing any product. By purchasing this product, you fully acknowledge that you have read and agree with the Always Mineral shop policies and disclaimer.
This listing is for a 1.4oz glass bottle filled with botanical facial steam.