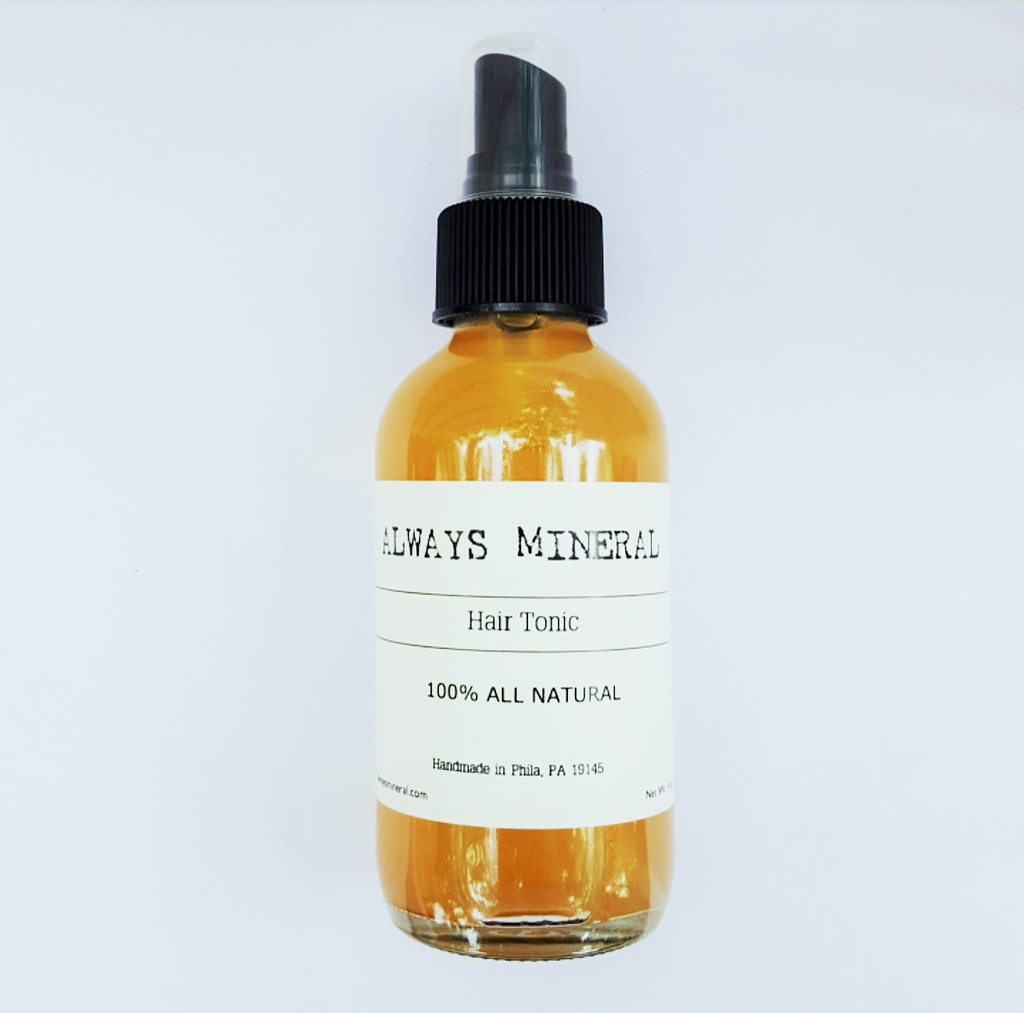 Hair Tonic
Our Hair Tonic is mildly acidic on the pH scale (similar to the pH of hair and scalp's natural pH), which helps to maintain the appearance of healthy hair and scalp.  Improves overall appearance and manageability of hair by adding shine, softness, and removing excess build up. Also benefits dry, itchy scalp.
Hair Tonic is extremely versatile, and can be used as a leave-in spray, or pre-shampoo treatment; use this product however it fits into your routine, or the method that suits you best.
TO USE: 
FOR SCALP: Spray at roots, directly onto scalp.  It may be easiest to separate hair into sections, exposing the scalp and spraying as you go. After spraying as needed, massage scalp with fingers. Allow to dry for a leave-in treatment, or rinse out with or without shampooing.
FOR HAIR:  May be used on damp or dry hair. Hold bottle about 6 inches away from hair and spray evenly. Brush or comb through and allow to dry. For dry ends, spray ends of hair directly and thoroughly.
To use as a pre-wash treatment, spray directly onto hair and scalp until hair is damp.  Brush through/massage scalp.  Allow to sit for approx. 30 minutes prior to washing.
INGREDIENTS:
Aloe Barbadensis Mille (Aloe vera), organic unpasteurized apple cider vinegar, Cedrus atlantica (Cedarwood) oil, Lavandula (Lavender) oil, Ocimum basilicum (Sweet basil) oil, Rosmarinus officinalis (Rosemary) oil, Salvia sclarea (Clary sage) oil
-----------------------------------------------------------------------------------
The information listed above is descriptive of the ingredients used in the product. Always Mineral does not make claims regarding the benefits of any ingredients in the final product.
Please read our
Terms and Conditions
 prior to purchasing any product. By purchasing this product, you fully acknowledge that you have read and agree with the Always Mineral shop policies and disclaimer.
This listing is for a 4oz glass bottle of Hair Tonic.