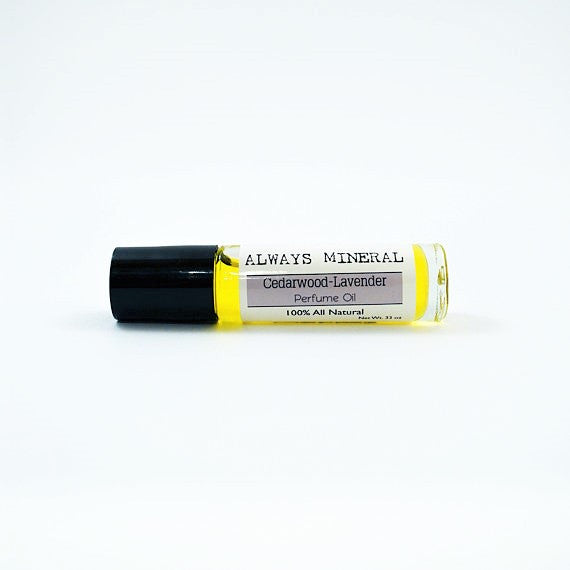 Cedarwood Lavender Perfume Oil
Always Mineral perfume oil is handcrafted and formulated with concentrated fragrant blends of 100% pure essential oils, in a natural base of Jojoba oil, containing absolutely no fillers. Jojoba oil has similar properties to the skin's natural sebum and is quickly absorbed. The essential oils are left on the skin to provide a lingering aroma of the fragrant blend.

-CEDARWOOD LAVENDER: Rich woodsy scent with sweet and soothing undertones.

Perfume oils are directly applied to the skin, which allows the scent to be worn closer to the skin for a more subtle scent, and are a great natural alternative to commercial perfumes and alcohol-based fragrances.

All of our perfume oils (and all other products) are Phthalate Free. Phthalates are known hormone disruptors, which, unless otherwise noted, are often in the fragrances listed in commercial and natural perfumes alike. Fragrance oils are often used for perfumery. Only natural plant and flower essences (essential oils) are used to scent our perfume oils. Never chemical fragrances or fragrance blends.

INGREDIENTS:
Jojoba oil, Bergamot essential oil, Clary Sage essential oil, Patchouli essential oil, Cedarwood essential oil, Lavender essential oil.

TO USE:
Roll applicator onto pulse points, or anywhere fragrance is desired.

Caution: Avoid eyes. Do not ingest.

ADDITIONAL SCENT OPTIONS:

-BERGAMOT ROSE: Bright and uplifting Citrus and Floral tones

-PATCHOULI SAGE: Deep earthy aroma, with woody, herbaceous, and peppery tones

-----------------------------------------------------------------------------------

Please read our

Terms and Conditions prior to purchasing any product. By purchasing this product, you fully acknowledge that you have read and agree with the Always Mineral shop policies and disclaimer.

The information listed above is descriptive of the ingredients used in the product. Always Mineral does not make claims regarding the benefits of any ingredients in the final product.
This listing is for a .35oz (10ml) Cedarwood Lavender perfume oil, packed in a glass bottle with roller applicator.