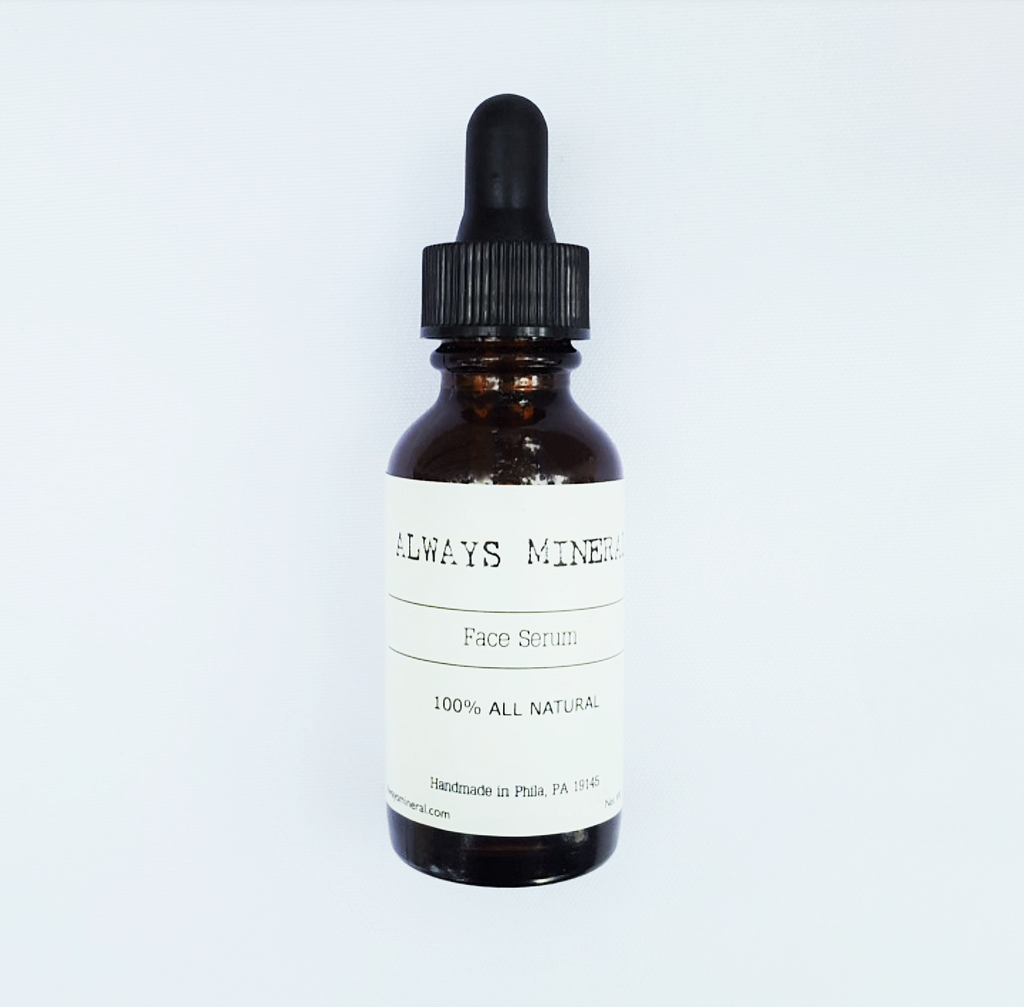 Face Serum
Formulated to nourish and moisturize, our face serum is blended with vitamin and nutrient packed therapeutic oils and pure essential oils for a natural, subtle scent, harnessing the healing properties of each oil. High in antioxidants and essential fatty acids, our blend of carefully chosen oils are known for their soothing, skin regenerating properties. Our serum is crafted to go on light, quickly absorb into the skin, and leave skin feeling soft and subtle.
-JOJOBA OIL: Similar to the skin's natural oil. Helps to regulate oil production.
-ARGAN OIL: a known anti-aging oil due to it's high content of vitamin E and fatty acids. This oil is anti-inflammatory and helps promote smooth, radiant skin.
-GRAPEFRUIT SEED EXTRACT: Calms skin irritations such as acne and eczema. Packed with Vitamins A, C, and E, and other antioxidants to protect against free radicals.
Naturally Scented With These Skin Benefitting Essential Oils:
-Tea Tree Oil: This antiseptic and astringent essential oil makes it perfect for cleansing the skin and fighting acne.
-Lavender Oil: Anti-inflammatory, improves circulation, firms and soothes skin.
-Clary Sage Oil: Maintains moisture retention to help prevent skin from drying out.
TO USE:
Use in place of a daily moisturizer. Apply 3-5 drops* to palm of hand and gently massage into face, focusing on areas prone to dryness. This product is best used after cleansing and toning the skin.
*Start with the recommended usage rate, and adjust amount of serum used as needed for your skin type.
Due to the concentrated nature of serums, a little bit truly goes a long way.
This product will last a long time if used as recommended.
INGREDIENTS:Argan oil, jojoba oil, grapeseed oil, meadowfoam oil, grapefruit seed extract, vitamin e, Salvia sclarea (clary sage) oil, Lavendula (lavender) oil, Melaleuca (tea tree) oil
Face Serum is best used after cleansing and toning with our
Face Toner
.
-----------------------------------------------------------------------------------
This listing is for a 1oz bottle of face serum, packed in an amber glass bottle with dropper.
Please read our
Terms and Conditions
 prior to purchasing any product. By purchasing this product, you fully acknowledge that you have read and agree with the Always Mineral shop policies and disclaimer.

The information listed above is descriptive of the ingredients used in the product. Always Mineral does not make claims regarding the benefits of any ingredients in the final product.